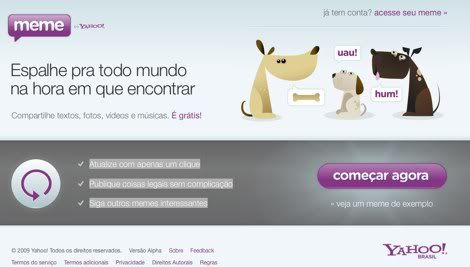 Latest news,create a who like a collection of photographs on the internet.This service is suitable for novice blogger beginners,a hobby store files on the server.You already know?Here's the explanation.
Yahoo meme is a service that resembles micro blogging twitter.it was said that yahoo was holding accidentally published with the aim of twitter rival.
Yahoo meme,can be used to write post,upload videos,embed videos,and music mp3.But,now yahoo meme still in the testing framework,but is open to the public.There is a very striking difference between yahoo meme and twitter.
When you write a post on twitter,you can not write a lot of caracted is but in yahoo meme,writing is not limited to posting.
Conditions for using this service,you must have an email in yahoo.Not have,on the yahoo list.Thanks.