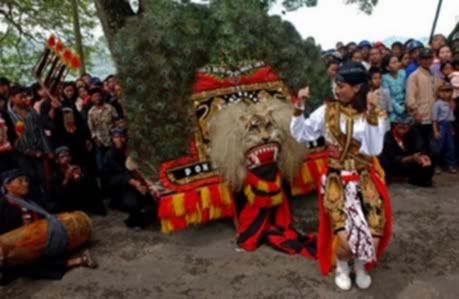 Reog art culture,one culture from East Java and Ponorogo considered as the city of original.Dance reog one local culture in Indonesian is still strong with thing mystical.
if feels good and scared when we see the dance reog from close range.
There is a story that impressed me.Ponorogo about a king who has the intention to apply princess of Kediri Kingdom Dewi Ragil Kuning is name.
But in the middle of the journey,the party King Ponorogo in Singobarong blocked by the king of Kediri.
Singobarong king troops,consisting of peacocks and lions.While in the king Ponorogo(King Kelono) in escorted by Warok dressed all in black.And the Warok has extraordinary magic.
Culture dance Reog tiger-shaped head and garnish with peacock accessories.it was a fantastic creations.
Reog in performed together during the month a 1 Syuro Ponorgo square.Before the reog performed at the dancer accomparied Jaran Kepang.Are you inverested? May you much luck and went to Ponorogo with beloved family.Thanks you.Good luck.